During the Performance Test, students must demonstrate command of technique (kihon waza), movement patterns (kata) and free-fighting (jiyu kumite), as well as attitude and comportment (taido) appropriate to their age and rank. On the Written Test, students must demonstrate an understanding of terminology and concepts appropriate to their rank that is set out in our Seichou Karate® texts.
Additionally, on the third Saturday of each month, we hold separate study seminars for adults and children. Each month we explore a different topic of importance to our students' growth. Material covered in these seminars often appears on our tests. Students may attend the live seminars or they may watch recordings online.
Parents may assist their 6 or 7-year old children in understanding questions and filling in answers on Written Tests. However, the answers must come from the children without prompting from parents.
In order to pass students must score 80 percent or higher on both components.
Payment of the Promotion Test fee does not guarantee success or rank advancement.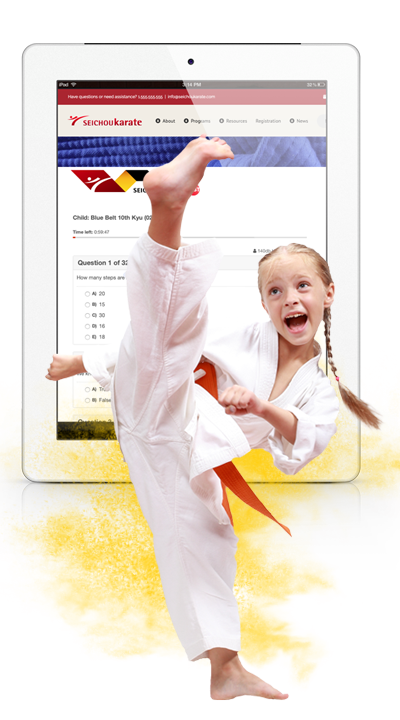 Mouseover Boxes for more info!
Eligibility
Adults and children enrolled in our program for students 6 years and older are eligible to take promotion tests. Newcomers must have taken 25 lessons and all others must have taken 25 lessons since their last promotion test.
Scheduling
Seichou Karate®offers regularly scheduled Promotion Tests each May and November. Students may elect to take those exams or, with their instructor's permission, they may take an unscheduled exam after they have completed the class attendance requirements.
Online Written Exam Process
Online Written Exam Process
After they have taken their Performance Test, we send candidates for promotion a link to take their Written Test. They have 7 days in which to complete it. Students have 60 minutes to complete the online Written Test once they have begun. It must be completed in one session. Results of the Performance and Written tests are available 14 days after it is administered.
Ranking
Ranking at Seichou Karate®is designated by the color of one's belt as follows: Beginners: white, Intermediate: blue, yellow, green, purple, and Advanced: brown, black. There are two "kyu" rankings for each belt level below black belt. There are also different black belt rankings, which are known as "dan" rankings. Students below the rank of black belt are known as "mudansha," (無段者) whereas those who have achieved the rank of black belt are "yudansha" (有段者).
Students with Prior Martial Arts Experience
Students with Prior Martial Arts Experience
At Seichou Karate®, the process of learning our particular basic form, movement patterns, and fighting techniques is essential for correct execution and for building "Seichou character." Therefore, irrespective of whether or not they have had previous martial arts experience, all of our students begin their training at the rank of 12thkyu white belt.